This article details how to use Secure Erase to delete files or folders so that they cannot be restored
Secure Erase removes all versions of specified files and folders, including the associated objects stored in the cloud.
Once deleted using Secure Erase, files or folders cannot be restored.
Using Secure Erase does not erase snapshots associated with the content you have removed.
The snapshots age out according to the settings defined in your User-Managed Snapshot settings. You must manually erase the snapshots associated with the files that you deleted if you want those snapshots erased as well.
You must have an active secure erase license installed on your node to perform a secure erase.
Follow these steps to use Secure Erase:
1. Log in to your master node.
2. Select Maintenance > Secure Erase.
3. Click the SELECT FILES button.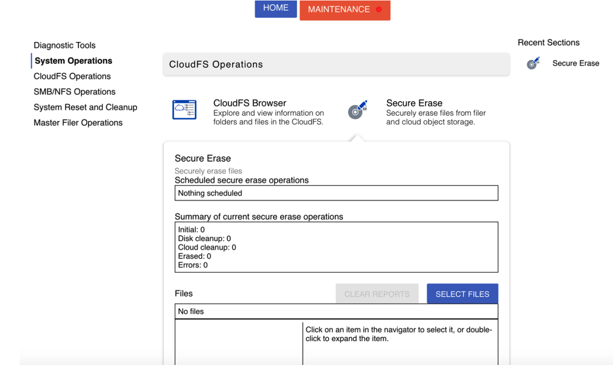 4. Type the path to the file that you want to permanently erase.
5. If you selected the Schedule for… radio button, select the date and time that you want your file to be deleted and click the SCHEDULE button.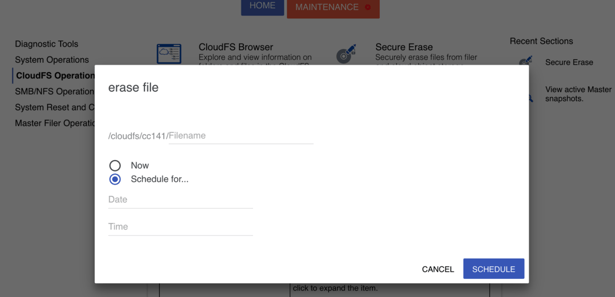 6. If you want to delete your file immediately, select the Now radio button and click the RUN button.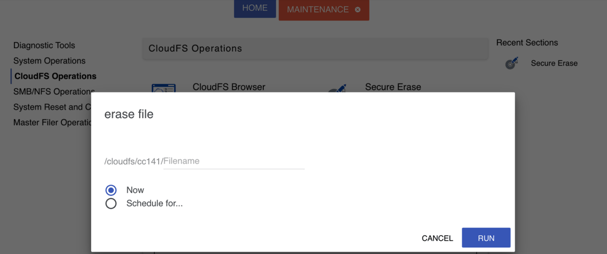 Your files are erased.