For all versions after 7.1.8.0, this patch will be included in the OS itself. For versions earlier than 7.1.1.0, contact Panzura Support for assistance on getting a special patch for your version.
To download the patch:
1. Navigate to the following link on your web browser (Google Chrome is preferred): https://support3.panzura.com/CloudController_patch_certs_update
2. When prompted, enter the user name and password. The user name is getpzos. The password is Pan5UR8.
3. The patch automatically installs to your Downloads folder under the name CloudController_patch_certs_update.tar.
Do not unzip this .tar file. The file is read by the node in this state
To install the patch:
1. Log in to your node's Web UI.
2. Click on the Maintenance button.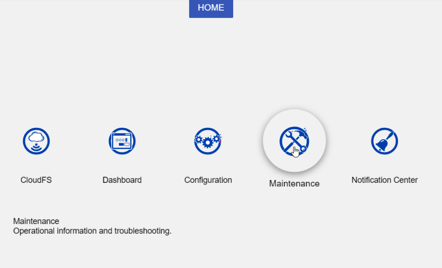 3. Select Upgrade located under System Operations.
4. Select the Patch radio button.
5. Select the Local radio button.
6. Click the SELECT PATCH button.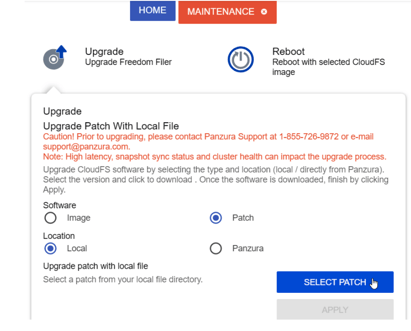 7. Select the CloudController_patch_certs_update.tar file that is located in your Downloads folder.
8. Click the Apply button.
The patch application begins.
The Upgrade subsection resets when the patch application finishes. You can double-check that the patch has applied by hovering your mouse over the blue "i" button at the upper-right side of the Web UI. The patch version should be the same as your current PFOS version with a "u" at the end.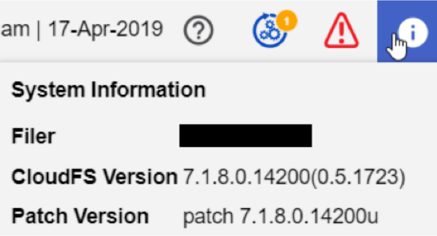 9. Repeat this process until all of the nodes in your CloudFS have the patch installed.
This patch must be installed on all of the nodes in your CloudFS, including your HA node.